Woodie's Wash Shack is a brand-new express car wash experience with plans to expand throughout the Southeast. Customers at Woodie's Wash Shack can expect the fun and excitement of surf culture with the customer service of the 1950's. Donald Phillips, Managing Director said, "We are creating a place where people of all ages love to come… while getting the best car clean in the business at a great price."
Since the 1950's a lot has changed,  Woodie's is revolutionizing the car wash business by creating an organization with our customers and communities in mind. We invested in top of the line equipment and products to ensure that our customers get an exceptional wash each time.
Click to see Woodie's Wash Shack News & Events.
Woodie's on 66th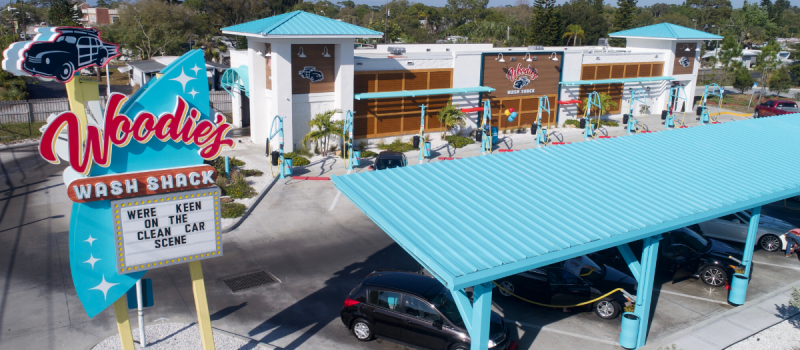 Woodie's in Development
Woodie's on 66th at 5601 66th St N in St. Petersburg, FL
Woodie's on Poplar at 3294 Poplar Ave in Memphis, TN
Locations Under Contract
Woodie's on Gandy in Tampa, FL
Woodie's at Pompano Beach in Pompano Beach, FL
Woodie's at Skyway in St. Petersburg, FL
Woodie's at Tamiami in Nokomis, FL
Woodie's at University Sarasota in Sarasota, FL
Woodie's at Cypress Creek in Lutz, FL
Woodie's at Sun City in Wimauma, FL
Woodie's at Gibsonton in Gibsonton, FL
Woodie's on 9th in St. Peterburg, FL
Woodie's on Ballantree in Lutz, FL
Woodie's at Kirby in Memphis, TN