Phillips Development & Realty Announces Sale of 3400 Selwyn multi-family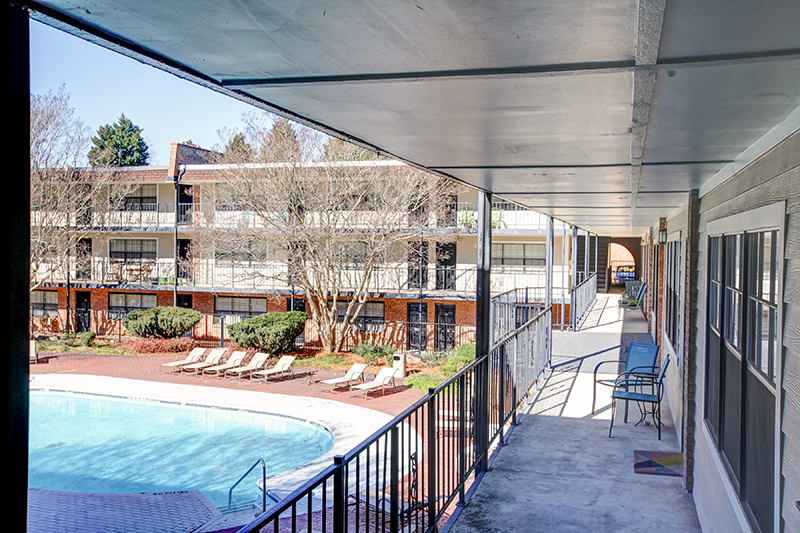 August 1, 2018- Phillips Development & Realty (PDR) is excited to announce the sale of 3400 Selwyn in Charlotte, NC. This 129-unit multi-family apartment complex was built in 1972. It sits on 8 acres total and is located at 100 Matador Lane. 3400 Selwyn is located in the prominent community of Myers Park in close proximity to Queens College and features studio and one bedroom apartments.
The purchaser is Covenant Capital Group, LLC, a Nashville-based value-add real estate investment manager which focuses on acquiring apartment communities in high-growth southeastern and mid-Atlantic markets.
The transaction between Phillips Selwyn and Covenant Capital Group, LLC was closed on July 27, 2018 for $14.8M.
PDR acquired 3400 Selwyn in June 2007 and completed numerous renovations in the 11 years PDR owned and operated the apartment community. According to Donald Phillips, Managing Director of Phillips Development & Realty, "This has been among the best and most consistent properties we have owned, and it's rewarding to see the property slated for extensive renovations."
Brian Ford, A.J. Klenk, Jad Richa, and Ron Corrao of Capstone Apartment Partners recently brokered the sale of 3400 Selwyn. According to managing partner, Brian Ford, "The interest in and competition for 3400 Selwyn was notably intense, with Capstone producing record numbers of highly qualified offers and tours during our marketing period. This asset is an ideal fit for many different investor types, given the short and long-term value-add opportunities, timeless location, and future development potential on the adjoining 2.4 acres. We continue to see demand far outpace the supply of well-located value-add investment opportunities across the Carolinas, and see no immediate end in sight."
About Phillips Development & Realty
Phillips Development and Realty (PDR) is headquartered in Tampa, Florida. Since 2001, PDR has demonstrated itself as a leader and innovator in the multi-family and storage industry, building progressive projects throughout the United States. PDR is currently facilitating eighteen projects in four different states.