Completion of $65M Luxury Multi-Family Community in St Petersburg, Florida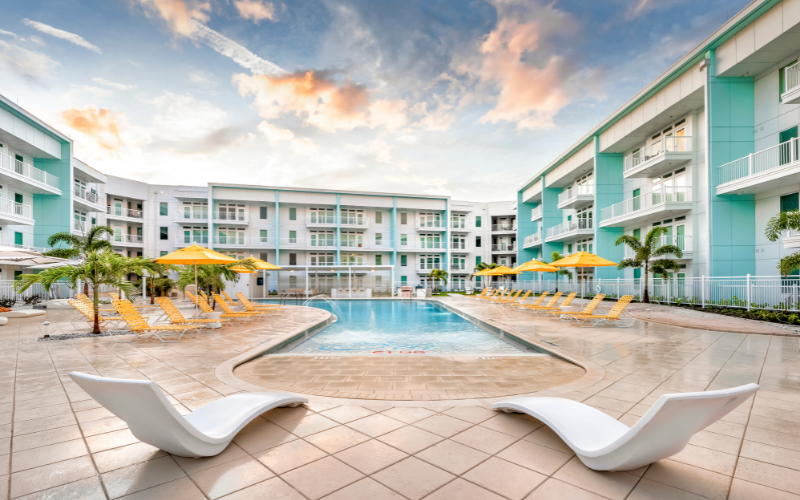 Phillips Development & Realty and Capstone Building Corp. Announces Completion of $65 Million Luxury Multi-Family Community in St Petersburg, Florida
Birmingham, Ala. – Phillips Development & Realty, LLC and Capstone Building Corp., a premier general contractor based in Birmingham, Alabama, announces the completion of the Sur Club Apartment Community in St. Petersburg, Florida. The project located on four acres is comprised of 484,855 square feet with 296 units and 5 story parking deck. The project is positioned as a resort-style living community incorporating atomic architecture design elements and artistic design features along I-275.
"The PDR and Capstone Building team has over a decade of experience working together. This proven relationship assisted tremendously in the face of the COVID-19 pandemic which the team worked through with minimal disruption—delivering ahead of schedule," states Kevin Johnston, Chief Operating Officer of Phillips Development & Realty, LLC. "We also worked closely with the City of St Pete staff with the visionary planning of Don Phillips starting in 2017 to deliver the first multi-family development in 2021 to jump start they City's vision for the Skyway Marina District".
"We very much appreciate Phillips Development selecting Capstone Building Corp as their general contractor. We are proud to have played a role in this impressive project," states Jay Chapman, owner and CEO of Capstone Building Corp. "Along with Phillips Development, we are pleased to announce the completion of this outstanding development."
In addition to the units' outstanding amenities, the property also features:
2 Resort-Style Pools
Poolside Cabanas
Relaxation Hammocks
2 Outdoor Kitchens
Outdoor Entertaining Areas
Resident Lounge/Coffee Bar
Super Large Bark Park
Amazon HUB Package System
Pickleball Court and Cornhole
Covered Bike Parking
Pet Friendly Environment
24-hour Fitness Center
The Sur Club is located in the Skyway Marina District at 3301 32nd Ave S. Saint Petersburg FL, 33712, and is a few miles away from the Florida Gulf Beaches, downtown St. Petersburg, and all other attractions in Tampa, Florida.
For more information on Capstone Building Corp. please contact Krista Conlin at 205.937.377 or krista@kcprojects.net. For more information on Phillips Development & Realty, LLC please contact Kevin Johnston at 813-868-3100 or KJohnston@pdrllc.com.
ABOUT PHILLIPS DEVELOPMENT & REALTY, LLC.
Phillips Development and Realty (PDR) is headquartered in Tampa, Florida. Since 2001, PDR has demonstrated itself as a leader and innovator in developing multi-family communities, self-storage facilities, and tunnel-style car washes, building progressive projects throughout the United States. For more information, visit www.phillipsdevelopment.com.
ABOUT CAPSTONE BUILDING CORP.
Capstone Building Corp, headquartered in Birmingham, Alabama, is a trailblazing veteran leader in the multi-family housing development industry. Since 1997, Capstone Building Corp. has completed a diverse portfolio of 115 projects in 22 states – seeing them through design development, pre-construction, construction, and post-construction. The company's projects, to date, are valued at more than $1.8 billion. Built on unconditional standards of performance, service, and integrity, Capstone Building Corp.'s focus on their clients' needs and a culture of exceeding expectations has produced an overwhelming success rate for return business regarding their extensive line of projects ranging in high-end, state-of-the-art designs to mixed-use revitalization developments and RAD rehabilitation jobs.
For more information on Capstone Building Corp., visit www.capstonebuilding.com.