$50.8M LOAN SECURED FOR LUXURY MULTI-FAMILY COMMUNITY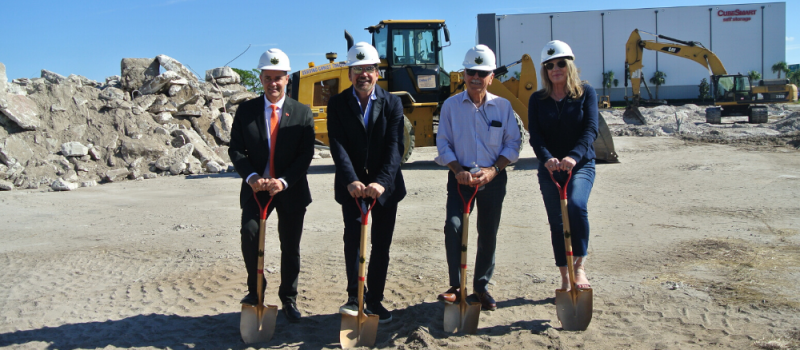 TAMPA, FL – Phillips Development & Realty (PDR) secured financing for its latest project, the $63M, 296-unit 4-story Sur Club apartment community in St. Petersburg, FL. A ground-breaking ceremony was hosted on Friday, November 22. Numerous community leaders and partners where on site for the event, including multiple members of the PDR team.
The construction of the 327,856 square feet project has begun and will include a 5-level pre-cast concrete parking garage abutting I-275. PDR programmed construction completion for 4th quarter 2021.
PDR closed a $50.8M loan for the class A market rate project through Love Funding Corporation.  PDR used the US Department of Housing & Urban Development's Section 221(d)(4) new construction financing program. Sur Club is located at the southern Gateway to St. Petersburg and Pinellas County in the heart of the Skyway Marina District.  PDR is working closely with the City of St. Petersburg to add redevelopment into this area to jump start new market-rate housing and commercial development as part of the City's Skyway Marina District Plan.  Sur Club Apartments is PDR's Phase 2 of this mixed-use master planned development.  PDR delivered Phase 1 of the mixed-use development, a 100,000 square feet Cube Smart Storage building, in Fall 2018 which is currently in lease-up.  Phase 3 of the development will include restaurants on the West side of the projects along US 19.
The one, two, and three-bedroom apartments of Sur Club will feature Energy Star stainless steel appliances, granite countertops in kitchens and bathrooms, and 42" cabinetry. The community amenities will include a high-end clubhouse with a separate 24/7 fitness center, business centers, media rooms, four elevators, luxurious landscaping, and two resort-style pools within the courtyards. PDR will also be securing a Nation Green Building Certification for Sur Club.
The General Contractor is Capstone Building Corp. of Birmingham, AL.  Capstone recently completed the 179-unit multi-family development Villas at Mallard Creek, located in Charlotte, NC, for PDR.
About Phillips Development & Realty
Phillips Development and Realty (PDR) is headquartered in Tampa, Florida. Since 2001, PDR has demonstrated itself as a leader and innovator in developing multi-family communities, self-storage facilities, and tunnel-style car washes, building progressive projects throughout the United States. PDR is currently facilitating nineteen projects in four different states. For more information, visit www.phillipsdevelopment.com.