Phillips Development & Realty Breaks Ground on Phillips Mallard Creek Apartments, Phase II
Phillips Development & Realty (PDR) is excited to announce the official groundbreaking for Phillips Mallard Creek Apartments, Phase II. The groundbreaking ceremony took place on Tuesday, June 12, 2018 at Phillips Mallard Creek, in Charlotte's University area.  The 179-unit project will expand upon the existing 300 units at Phillips Mallard Creek Apartments. Phase II is scheduled to be completed in the second quarter of 2019.
Guests in attendance included investors, property vendors, and Phillips employees.  Ceremonies included breaking ground with golden shovels, a ribbon cutting, and a short speech. Guests enjoyed refreshments and light snacks.
This new Class A community will have its own leasing office and amenities. Those amenities will include a clubhouse, pool, gym, coffee area, and walking trail. The multi-family residences will be spread across nine acres, surrounded by mature woods.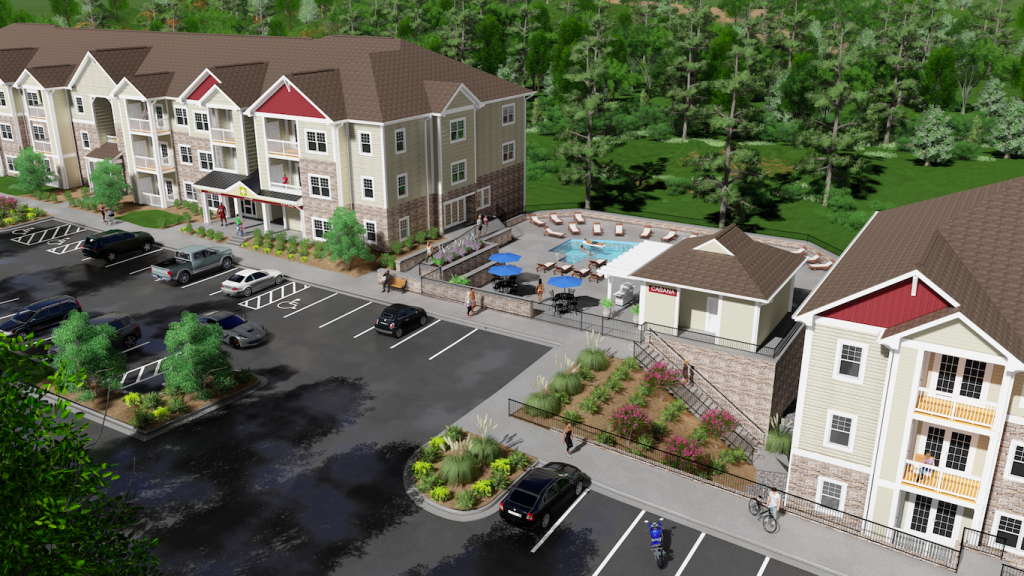 The $25M project will provide 167,000 sq. ft. of total rentable space. PDR expects the first unit to be available to rent in the first quarter of 2019. Project completion is scheduled for the second quarter of 2019. Ovation Property Management is targeted to manage this property.
PDR has chosen Charlotte as a viable expansion market based on the city of Charlotte's long-term development plan. This new residential community will benefit students, young professionals, and families connected with the University of North Carolina at Charlotte (UNC-Charlotte), IBM, University City Business Parks, and more. Phillips Mallard Creek, Phase II is also convenient to the Blue Line, shopping, and medical facilities.
The architect for this project is Andron Architects and Associates, based in Raleigh, NC. Charlotte-based company Urban Design Partners is serving as the civil engineer for Phase II. The general contractor is Capstone Building Corp. of Birmingham, Alabama.
About Phillips Development & Realty
Phillips Development and Realty (PDR) is headquartered in Tampa, Florida. Since 2001, PDR has demonstrated itself as a leader and innovator in the multifamily industry, building progressive projects throughout the Southern United States. PDR is currently facilitating eighteen projects in four different states.