Phillips Development & Realty Announces the Completion of $3.6M Energy Demonstrator Apartment Building in Charlotte, NC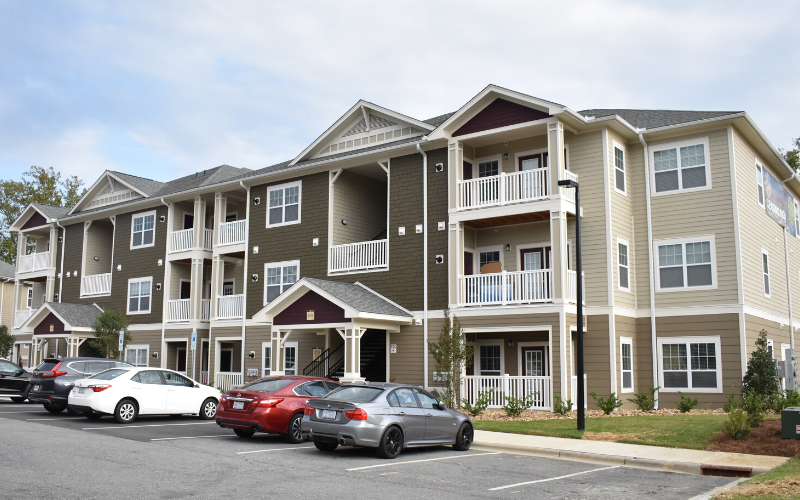 Phillips Development & Realty Announces the Completion of $3.6M Energy Demonstrator Apartment Building in Charlotte, NC 
Brand new luxury apartment building in Charlotte, NC
24 energy-efficient apartment homes added to Phillip Mallard Creek Apartments
Residents can expect lower utility bills
CHARLOTTE, NC – Tampa, FL based Phillips Development & Realty (PDR) is excited to announce the completion of construction at Phillips Mallard Creek Apartments, Building 5. On May 28, 2019, PDR completed the construction of the $3.6M energy demonstrator 24-unit multi-family building in Charlotte, NC. The building has 12 one-bedroom and 12 two-bedroom units and is located at 655 W. Mallard Creek Church Road near UNC-Charlotte.  Adding to the existing Phillips Mallard Creek (PMC) Class A community, these 24 energy-efficient luxury apartment homes go beyond an EPA energy star rating.
During Energy Star's Design Intent engineering assessments, the project scored 97 out of 100 possible points for efficiencies—a nearly perfect score. Our development team worked closely with mechanical, electrical, and plumbing engineers to carefully select systems, building features, and appliances. These systems will not only reduce energy costs for residents but will also serve as a demonstration for an energy efficient development. "We integrated the most advanced building systems and energy efficiencies into this building that are generally only available in a highly customized home… we hope PDR's residents see substantial savings in their energy costs and we can apply them to future developments," stated Hubert Proctor, Senior Superintendent Capstone Building Corp.
This unique building features energy efficient Fujitsu ductless HVAC, gas appliances to include Rinnai tankless water heaters, CREE LED lighting, Icynene insulation, and more. "We are excited to compare efficiencies of the new building to the existing 300-unit energy star compliant Mallard Creek development." commented PDR's COO, Kevin Johnston.
The architect for this project is The Preston Partnership, based in Atlanta, GA. Electrical Engineering was accomplished by St. Petersburg-based Power Designs. Urban Design Partners was the Civil Engineer , and the General Contractor is Capstone Building Corp. of Birmingham, AL. Funding for the project was through Newmark Knight Frank using US Housing and Urban Development's 241(A) Program.
With the addition of Building 5 and the near completion of Villas at Mallard Creek (Phase II), there will be a total of 503 residential units available at this ideal location in  Charlotte.
About Phillips Development & Realty
Phillips Development and Realty (PDR) is headquartered in Tampa, Florida. Since 2001, PDR has demonstrated itself as a leader and innovator in the multi-family and storage industry, building progressive projects throughout the United States. PDR is currently facilitating eighteen projects in four different states. For more information, visit www.phillipsdevelopment.com.